---
PRAYER SHAWL MINISTRY – Knit in His Spirit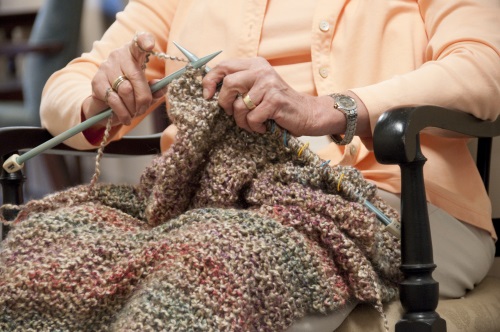 Prayer Shawl Ministry members knit or crochet shawls and lap robes that are given to persons who are ill, have suffered a loss, or are in the midst of a life crisis. Anyone can make a request for a shawl or recommend a recipient. The group also continues working on various scarf, hat, and mitten projects for several charitable groups, including SHIM and Washington City Mission.
Prior experience is not required. The only prerequisite is a desire to spend a delightful, relaxing evening in the company of those who share your love of needlework. Our schedule is very flexible, and attendance at every session is not required. Beginners and experienced needle workers are encouraged to become a part of this very special ministry. Anyone wishing to work independently is encouraged to do so. There are no deadlines—just present the shawl when it is finished.
Start with a prayer. Before beginning, say a prayer for the individual who may be receiving the shawl. You can pray for healing, good health, and peace. Please take the time to repeat your prayer as you knit. Prayer is good for you as well as the one who will receive the shawl.
Day/time:
1st and 3rd Wednesdays of each month
1:00 – 3:00 p.m.

Cost:
Free
Location:
Mt. Lebanon Galleria
Register:
For more information and to register, contact Mary Kay Mitchell.
---